Hot Tubs, Gazebos, and Saunas in stock!
Contact us directly to find out about our Autumn Sale and Exclusive Offers!

Swim Spa Covers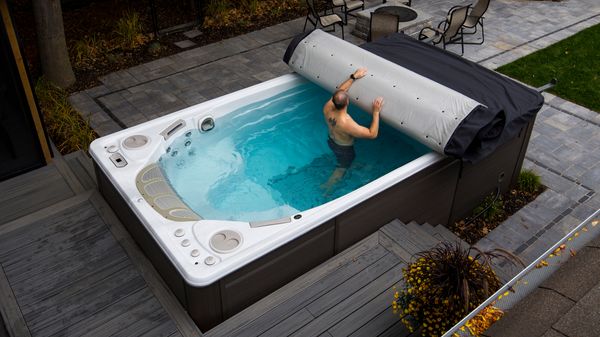 Roll On Roll Off Swim Spa Cover
Roll On Roll Off covers make it easier than ever to ensure that your swim spa is maintained correctly. Long gone are the days of thick heavy covers which required so much effort and struggle to remove, that you ended up neglecting your much-loved swim spa. The Roll On Roll Off cover is made from carbon fibre making it 25% lighter than other rolling spa covers, resulting in super easy use for anyone. In fact, they are designed to enable one person to roll the cover off in less than a minute. This cover is cleverly designed to have built in eyelets that allow air to escape as is rolls up so it does not get bigger and bigger.
Naturally, here at The Hot Tub and Swim Spa Company we ensure that our products are of the highest quality, and the Roll On Roll Off does not fail to disappoint, it is constructed with non-collapsible supports, allowing it to keep its shape in all weather conditions. Not only this, but it is also constructed from durable, UV protected, waterproof and weatherproof material which is securely double stitched on all the seams, to ensure the highest level of protection, even during strong winds. In addition, the Roll On Roll Off cover is exclusively designed, in the fact that is has triple thermal shield technology, which includes 3 distinct insulated layers and 2 insulting air pockets, meaning that heat is locked in, as a complete seal is created. In fact, 97% of the swim spa's infra-red heat is reflected back into the swim spa which makes the cover the most insulated part of the swim spa. This of course lowers the energy consumption and cost of your spa.
Furthermore, the Roll On Roll Off cover comes with a 3-year limited warranty and is ASTM certified.