Hot Tubs, Gazebos, and Saunas in stock!
Contact us directly to find out about our Autumn Sale and Exclusive Offers!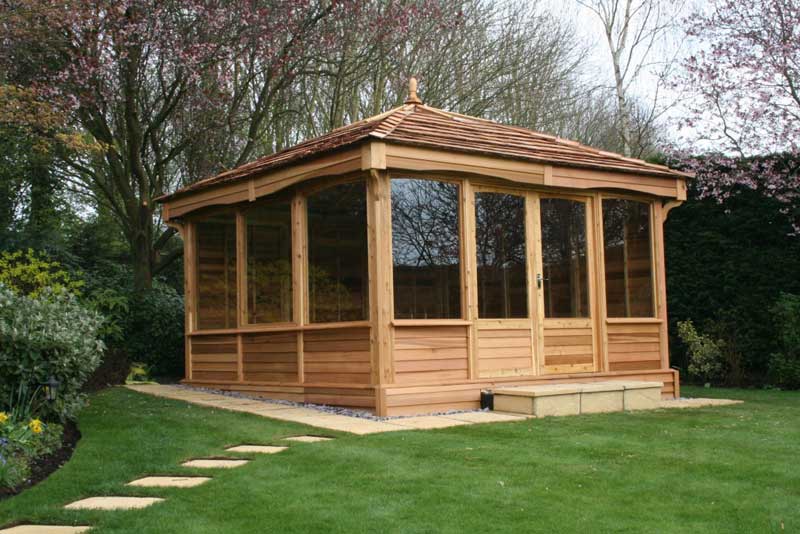 This exceptionally well built and sturdy structure, created using only the best Western red Cedar, is crafted to withstand all four seasons and be enjoyed all year round. With a monopitch roof, solid bevel siding, multiple windows and French doors, this building is a handcrafted work of art. As well as being aesthetically pleasing, this building can be used for a wide range of purposes including: housing a hot tub, creating an entertaining area or to just sit back and relax in, you decide. Furthermore, because Western red cedar is pitch and resin free, it is ideal for holding a wide range of other finishes such as an elegant dark stain, shabby chic bleaches or traditional solid colours.
Option
2.5m sq
3m sq
3.5m sq
4m sq
Dimensions
2.5m x 2.5m
3m x 3m
3.5m x 3.5m
4m x 4m
Roof Overhang
N/A
N/A
N/A
N/A
Roof Options
Monopitch or Atrium
Monopitch or Atrium
Monopitch or Atrium
Monopitch or Atrium
Prices From
£6,995.00
£8,440.00
£9,770.00
£11,360.00