Hot Tubs, Gazebos, and Saunas in stock!
Contact us directly to find out about our Autumn Sale and Exclusive Offers!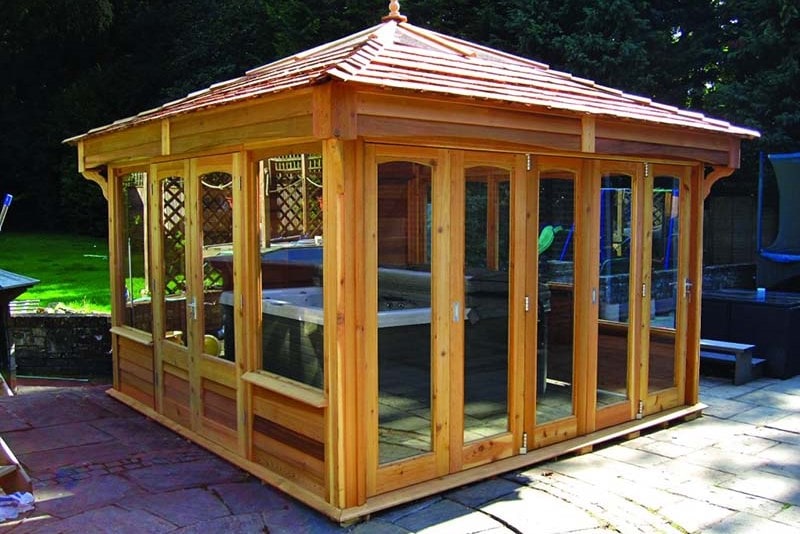 This bespoke gazebo is hand crafted using 100% real cedar, making this stunning pavilion built to last whilst reducing maintenance. Because of its natural properties, The Richmond gazebo is naturally resistant to rot, decay and insect attacks, requiring far less maintenance than a soft wood gazebo.
Built with either a Monopitch or Atrium roof, solid bevel siding, multiple windows and bi fold doors, this is the perfect addition to any garden, whatever you wish to use it for. Furthermore it can be used in any weather condition, as the bi fold doors can be fully opened on a bright summer's day or closed on a colder one.
It can be built in four sizes: 2.5 metres square, 3m square, 3.5m square and 4m square, so there is a size to suit every garden.
This gazebo is exclusive to us and each is individually hand crafted, so you can modify yours to have it built exactly the way you like. Enjoy al fresco living all year round and turn your vision into a reality.
Option
2.5m sq
3m sq
3.5m sq
4m sq
Dimensions
2.5m x 2.5m
3m x 3m
3.5m x 3.5m
4m x 4m
Roof Overhang
N/A
N/A
N/A
N/A
Roof Options
Monopitch or Atrium
Monopitch or Atrium
Monopitch or Atrium
Monopitch or Atrium
Prices From
£7,675.00
£9,195.00
£10,595.00
£12,495.00