Hot Tubs, Gazebos, and Saunas in stock!
Contact us directly to find out about our Autumn Sale and Exclusive Offers!
Water Treatment Chemicals
You can order chemicals to be delivered to your door step! Please call us on 0208 300 4003 to place your order.
---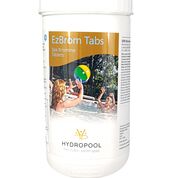 EzBrom Tabs
Specifically formulated slow – release bromine tablets formulated for the sanitization of your spa water.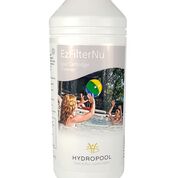 EzFilterNu (soak)
This is a spa filter cleaner blended to remove oils, minerals, organic matter and dirt from the filter helping the filter operate at its optimum. Regular use extends the lifetime of the filter.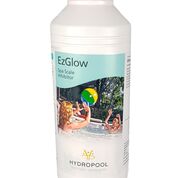 EzGlow
Spa scale inhibitor specially formulated to remove minerals and dissolve metals from source water- preventing the build up of scale which can cause damage to your spa.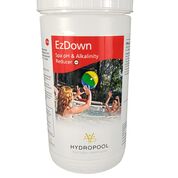 EzDown
Used to balance your PH and alkalinity when it is higher than the recommended levels. Using 1 scoop (approx. 1 tablespoon) will decrease your pH one square on your test strip.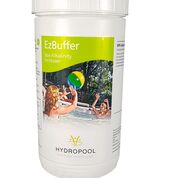 EzBuffer
Used to balance your alkalinity levels when they are lower than your recommended levels.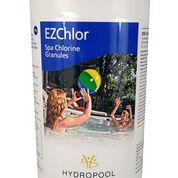 EZChlor
Rapidly dissolving Chlorine granules formulated for the sanitization of your spa water. Can be used alongside Chlorine tablets for a boost to your sanitiser reading or used on its own for a total Chlorine reading. They have a minimal effect on your pH.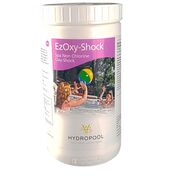 EzOxyshock
Will break down organic contaminants and unfilterable waste which can result in unpleasant smells and odours, also improve the efficiency of bromine sanitiser. Use this when water is cloudy but there is a chlorine reading.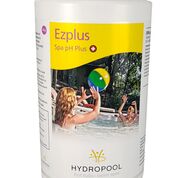 Ezplus
Used to balance your pH when it is lower than the recommended levels. Using 1 scoop (approx. 1 tablespoon) will increase your pH one square on your test strip.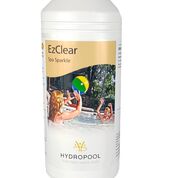 EzClear
Spa sparkle restores sparkling clarity to the water as the product binds all the small particles together allowing them to be removed via the filter.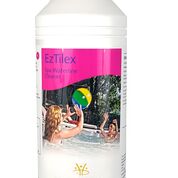 EzTilex
This product cleans the waterline in your hot tub, it has been specifically formulated to breakdown deposits found on the fabric of the spa shell. Put on a soft cloth to apply.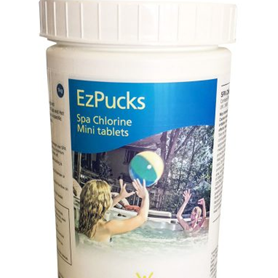 EzPucks
EzPucks Chlorine Mini Tablets are a slow dissolving tablet. Specially formulated to disinfect spas and hot tubs via a chemical feeder with minimal effect on pH.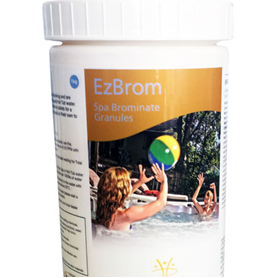 EzBrom
Spa Brominate Granules are rapid dissolving and are specifically blended to disinfect Spa and Hot Tub water. They can be used in addition to Bromine tablets for a quick boost in sanitiser readings or used on their own to provide a Total Bromine reading.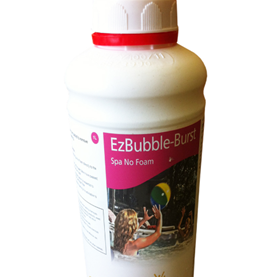 EzBubble-Burst
EzBubble-Burst Spa Anti-Foam is specially formulated to remove excessive and unsightly foaming.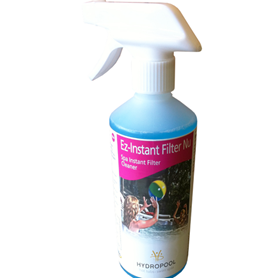 EzInstant Filter NU
Instant filter cleaner can be used on a regular basis and offers a quick solution to cleaning filter cartridges.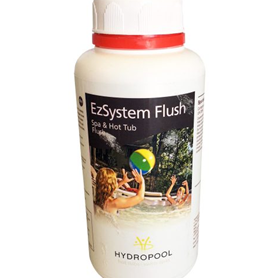 EzSystem Flush
EzSystem Flush Spa Cleaner is formulated to internally clean all the pipework and fittings and loosen biofilms which can provide an ideal environment for bacteria.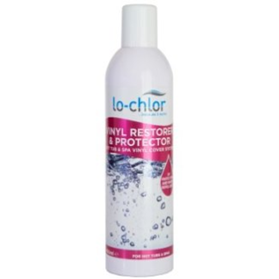 Vinyl Restorer & Protector
Vinyl Restorer & Protector is a unique product that has been specially formulated to both restore and protect Spa & Hot Tub vinyl covers. Our product is based on proven technologies in the marine industry. Some of the advantages of using Vinyl Restorer & Protector are: It's water repellent to hinder the penetration of water by giving your cover its own "rain coat"; It has built in SPF protection to prevents against fading from UV rays.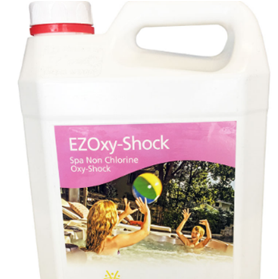 EzOxy-Shock 5kg
EzOxy Non-Chlorine Shock breaks down the un-filterable waste sometimes found in the water which can result in cloudy and unpleasant water. Can be used with Chlorine or Bromine.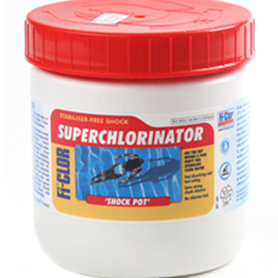 450g Superfast granules shock
Superchlorinator 'Shock Pot' Superfast is stabiliser-free, so helps overcome the problem of 'chlorine-lock' by restoring the effectiveness of chlorine in over-stabilised pools. Fi-Clor Superfast Superchlorinator dissolves rapidly to form free chlorine to kill bacteria and break down the organic contaminants in the water that cause eye sting and bather discomfort.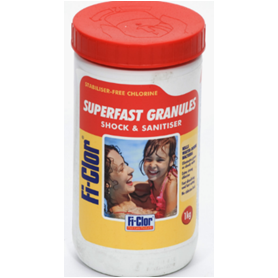 1kg Superfast granules shock
Fi-Clor Superfast Granules have 78% available Chlorine which makes it the most powerful stabiliser-free chlorine currently available in the UK.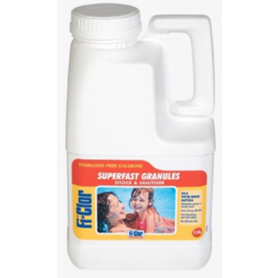 2.5kg Superfast granules shock
Fi-Clor Superfast Granules can be used either as a regular pool sanitiser, or as a shock to treat green or cloudy water. It contains 15% more available chlorine than standard calcium hypochlorite and its fine particle size. Fi-Clor Superfast Granules are made from calcium hypochlorite and contain no stabiliser, which when present in excess, may inhibit chlorine activity.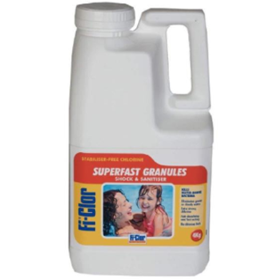 4kg Superfast granules shock
Fi-Clor Superfast Granules can be used as a regular pool sanitiser, or as a shock to treat green or cloudy water.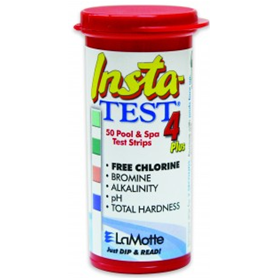 Test Strips
Each strip will test for the level of chlorine or bromine in your swimming pool, hot tub or spa water and provide instant results for total alkalinity, total hardness and pH levels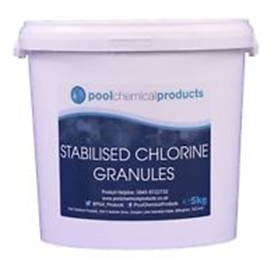 5kg Chlorine granules
Our chlorine granules are manufactured with a stabilising agent to help prevent the destabilisation and destruction of the chlorine by sunlight and UV rays. This prolongs their usefulness as a sanitiser over other types of non-stabilised chlorine and makes them ideal for use in swimming pools, spas and hot tubs whether located indoor or outdoor. These chlorine granules should be routinely used to help maintain a safe bathing environment. They may also be used as a shock treatment for smaller swimming pools.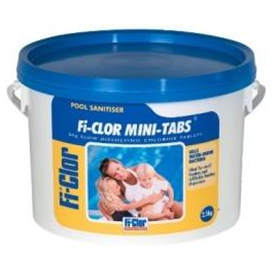 2.5kg Mini chlorine tabs
Designed to slowly release a safe but highly concentrated level of available chlorine over a period of several days to combat bacteria and other pollutants. They contain a built-in stabiliser: Kills waterborne bacteria; long lasting; simplifies pH control in hard water areas; Ideal for outdoor swimming pools.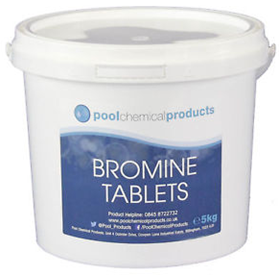 5kg Bromine tabs
Like chlorine, bromine is an essential chemical sanitiser that helps to maintain low levels of bacteria within pool water to help prevent the spread of disease. Whilst high water temperatures can render chlorine ineffective, bromine is more stable at higher temperatures and this makes it more suitable as a sanitiser in spas and hot tubs. A tablet of bromine will slowly dissolve when placed in your skimmer basket or floating dispenser. Bromine tablets are an alternative sanitiser to chlorine.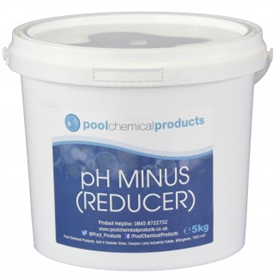 5kg PH Minus
The effectiveness of all chlorine based sanitisers decreases as the pH level of the water increases. pH minus (also known as pH reducer) can be added directly to the pool water to reduce the pH to a desirable level. For the chlorine to remain effective, the pH level should be kept below 7.6. However if the pH level drops too low then the water can start to degrade pumps and liners, so aim to keep the pH level between 7.2 and 7.6. pH minus is suitable for use in swimming pools, spas and hot tubs.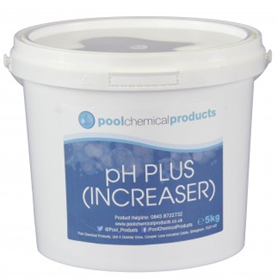 5kg PH Plus
Bathing water that is low in pH can be corrosive to pool pumps, heat exchangers and damage the pool lining. pH plus is a powdered additive than can be used to raise the pH to a desirable level. However, too high a pH level and the effectiveness of all chlorine sanitisers starts to decrease. Always aim for a pH level of between 7.2 and 7.6.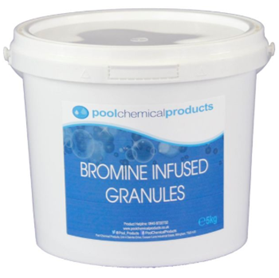 5kg Bromine granules
Our stabilised bromine granules produce free active bromine to kill bacteria and other harmful organisms in your spa water. The rapidly dissolving granules can be used as part of your daily maintenance routine and have minimal impact on pH.