Hot Tubs, Gazebos, and Saunas in stock!
Contact us directly to find out about our Autumn Sale and Exclusive Offers!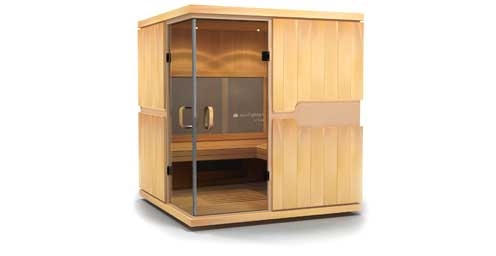 Product Features
Exterior:
1793.24mm x 1793.24mm x 1945.64 / 711.2mm
Interior:
1640.84mm x 1640.84mm x 1816.1mm / 552.45mm bench depth
Weight:
Up to 1088 lbs
Electrical:
240v; 3840 watts max, 3072 watts continuous; 20a (20A outlet)
Wood Options:
Basswood, Cedar, Eucalyptus
Capacity:
4 - 5 person
This cleverly designed sauna is not only aesthetically pleasing, but is also a technologically advanced and unique product. Use the pre-set programmes to customise your session for an exclusive, yet personal, sauna experience. Using the 10.1" Android powered screen, choose from: Cardio, detoxification, pain, relief, relaxation, weight loss and skin health. If that's not enough, you can make great use of the premium built in speakers, allowing you to play your favourite tunes as you sweat your stresses away...
0% APR available. Buy now with as little as £500 deposit. No interest, no fees, no charges. Subject to status and acceptance.